Em atividade desde 1985, é mestre em piano blues, boogie woogie e hammond B3. Foi o pioneiro em seus instrumentos e continua sendo o mais importante pianista e organista de blues em nosso país. Borger atinge algo muito difícil em sua música, soar verdadeiro e autêntico, improvisando sem "decorar" suas linhas melódicas, doce em alguns momentos, incendiário em outros.

As apresentações e parcerias, são históricas e extensas. Abriu shows para artistas como B.B.King e tocou com verdadeiras lendas do piano blues como os mestres Johnnie Johnson e Pinetop Perkins – pianistas de Chuck Berry e Mudy Waters. Morou em New Orleans, aonde gravou seu primeiro disco e se apresentou nas mais renomadas casas de shows como Tipitina's e House of Blues.
Seus discos já figuraram no TOP 10 da Real Blues Magazine, uma das mais importantes publicações do gênero.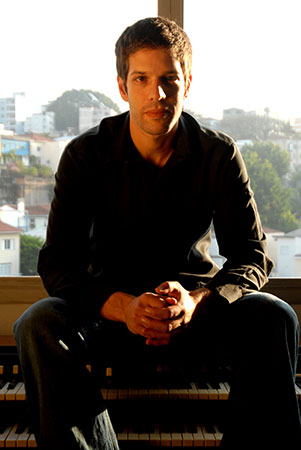 Excursionou com seu grupo pela Europa, tocando em grandes festivais de jazz e blues. No Brasil, é requisitado nos mais importantes festivais desde 1995, além de participar de programas de televisão e rádio, como Programa do Jô, Metrópolis, CBN e Band News.

Acompanhou e gravou com estrelas nacionais e internacionais, como Herbert Vianna, Rod Piazza, Jr Watson, Linwood Slim, Mud Morganfield Jr – filho de Muddy Waters, Sax Gordon, Mitch Kaschmar, Sugaray Rayford e Diunna Greenleaf, estes últimos ganhadores do Grammy Music Awards. Já gravou seis discos ao longo de mais de vinte anos de carreira, alternando entre o blues tradicional, boogie woogie, soul e o jazz, recebendo elogios dos veículos de mídia mais respeitados do Brasil e do exterior como Caderno 2(Estado de São Paulo), Revistas Veja, Bravo, Rolling Stone, Real Blues(U.S.A.) e Blues Revue (maior revista de blues mundial).
Teve a honra de ser um dos headlines por duas vezes do maior festival de piano blues e boogie woogie do mundo o "Cincy Blues Fest" em Cincinnatti no "Hall of Fame Boogie Woogie Stage" ao lado das maiores estrelas do gênero, feito inédito para um artista não americano.

Agora em 2015, Borger lança este trabalho em um box, com CD e DVD, no maior festival de Blues do Brasil, o Samsung Best of Blues Festival.
About
Ari Borger is the main Blues-Jazz&Soul pianist and organist in Brazil. Influenced by his American mother, he grew up listening to the Blues and Jazz masters.He fell in love with piano when he was nine years old, starting his studies with classical music. At sixteen he was already touring all around his county playing at the most important festivals.

Ari lived in New Orleans and there he performed at the most popular places, such as House of Blues and Tipitina's. In Brazil he played at the biggest blues and jazz festivals, sharing evenings with B.B. King, Pinetop Perkins, Marcus Miller and Johnnie Johnson. A dip in the roots of the Blues, Boogie Woogie and Soul is presented in his show through a sound flawless, dosing feeling and virtuosity.

Borger is the pioneer of the genre in his country, his music achieves something very difficult, ring true and authentic, without "decorate" lines when improvising, sometimes sounding sweet, and incendiary in others.
In 2011 and 2013 he played at the biggest and most important piano blues stage in USA, the
Hall of Fame Boogie Woogie Stage, at the Cincy Blues Fest, together with the most prestige players in the world.

He also toured with his group to several countries in Europe, like Austria, Hungary, Slovênia, Romênia and Croatia. Recorded and played with the West Coast Blues genius Junior Watson, Sax Gordon, Mud Morganfield Jr, Linwood Slim and many others blues legends. He has released six álbuns, with great and enthusiastic complements by specialized critics. Borger sounds modern and vintage at the same time, authentic and full of personality, this is Ari Borger, Listen and fell it!!!
"I will read about you and your name will be in lights"
Johnnie Johnson


"Great feeling and Swing"
Pinetop Perkins


"Burning B3 Organ, AB4 is prime stuff !!"
Blues Revue Magazine (USA)


"Excellent instrumental album, highly recommended"
Blues Matters Magazine (UK)


"One of the best piano and B3 organ players I ever heard"
Real Blues Magazine – (Canada)


"AB4 is so good that it could easily be one of the highlights of the legendary Blue Note Records. Absolutely hot disc!"
Przemek Draheim – Poland Jazz magazine